In many Thailand forums and other websites on the subject of Thai Visa, a so called Visa on Arrival is falsely mentioned again and again.
This articles always refers to the 30-day entry stamp that tourists from 46 countries receive when traveling to Thailand without a visa.
The term Visa on Arrival for this 30 day stamp is wrong. The 30-day stamp is not a visa at all but rather a visa exemption scheme that applies to these 46 countries worldwide.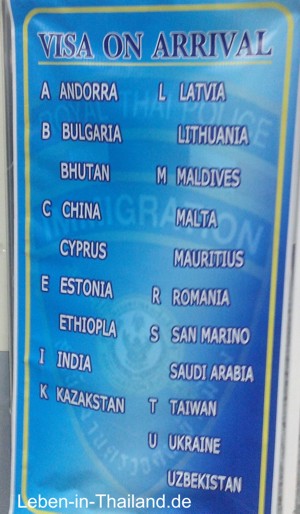 A true Visa on Arrival is something completely different. It is actually some kind of Tourist Visa which is also issued upon entry, but only for citizens of countries that either have no Thai Embassy or Consulate in their country or have made a special arrangement with Thailand.
Visa on Arrival only for 20 countries
Currently, this visa on arrival regulation applies to the following 20 countries only: Andorra, Ethiopia, Bulgaria, Bhutan, China, Estonia, India, Kazakhstan, Lithuania, Latvia, Maldives, Malta, Mauritius, Romania, San Marino, Saudi Arabia, Taiwan, Ukraine, Uzbekistan and Cyprus.
For the citizens of these countries, there is a special counter at the Immigration point at the airport, where the visa on arrival is issued. The cost of this visa is 1000 Baht.
We don't need a Visa on Arrival
But as I said: for most Western countries, this visa is not relevant. Upon arrival in Thailand, we automatically get a 30-day  permit without a visa, which may be extended for another 30 days at any Immigration office in Thailand. The Cost for the extension is 1900 Baht.