Railay Beach is a beautiful paradise located in Krabi, Thailand. It's an isolated peninsula only accessible by boat (from Ao Nang or Ao Manao), making it a secluded destination perfect for travelers looking to escape the hustle and bustle of city life. Railay is divided into two main areas: Railay East and Railay West.
Railay East is known for its mangrove forests and mudflats, making it less ideal for swimming. However, it's a great spot for rock climbing enthusiasts. The towering limestone cliffs provide a challenging terrain for climbers, with routes available for all levels of experience.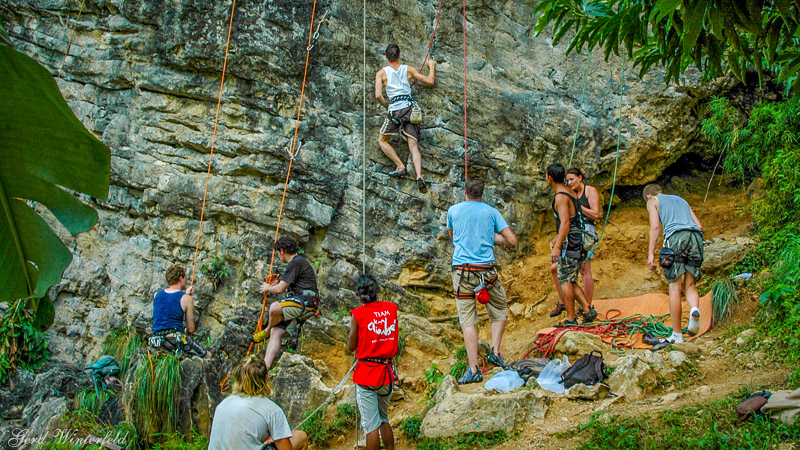 On the other hand, Railay West is known for its beautiful sandy beach and clear blue waters. It's a perfect place for sunbathing, swimming, and relaxing. The beach is surrounded by beautiful scenery, with the towering limestone cliffs providing a stunning backdrop.
➥ Hotels & Accomodation at Railay Beach
There are plenty of hotel and bungalow resorts available in Railay, offering a range of accommodations suitable for every budget. Many of them are located right on the beach, providing stunning views of the ocean and surrounding cliffs.
One of the highlights of Railay is the lagoon, located in the center of the peninsula. The lagoon is surrounded by towering cliffs, with a narrow opening leading to the beautiful emerald green water. The hike to the lagoon is challenging, with steep inclines and rocky terrain, but the stunning scenery makes it worth the effort.
Another attraction in Railay is the Diamond Cave, located on the east side of the peninsula. The cave is accessible via a short walk from the beach and offers a unique experience for visitors. The cave is named after the glittering minerals embedded in the walls, giving it a sparkling effect.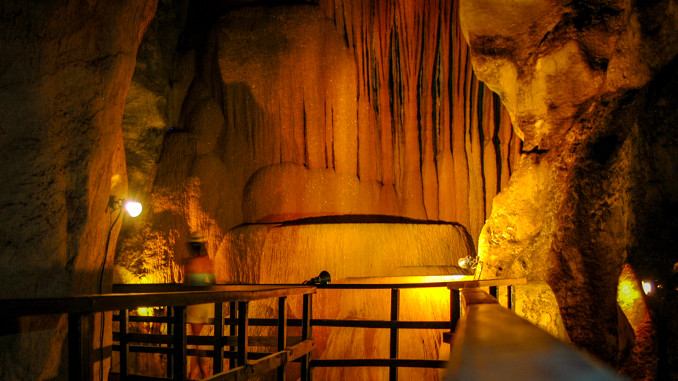 Phranang Beach is located near Railay and is accessible by a short boat ride. It's known for its beautiful scenery, with clear blue waters and white sandy beaches. The beach is surrounded by towering cliffs, providing a stunning backdrop for photos. It's also known for its unusual rock formations, with phallic-shaped rocks scattered throughout the beach.
Overall, Railay Beach is a must-see destination for travelers visiting Krabi, Thailand. Its secluded location and stunning scenery make it a perfect place to relax and unwind. Whether you're looking to sunbathe on the beach, go rock climbing, explore the lagoon, or visit nearby attractions like the Diamond Cave and Phranang Beach, Railay has something for everyone.