Krabi, a province in southern Thailand, is home to many beautiful and captivating tourist attractions. One of the most popular among them is Klong Song Nam, a hidden gem tucked away in the midst of lush green forests and towering limestone mountains.
Klong Song Nam, which translates to "River of Two Waters," is a natural wonder that offers visitors the opportunity to explore and experience the unique beauty of a freshwater stream running parallel to a saltwater canal. This unique geographical feature is what makes Klong Song Nam such a special place to visit.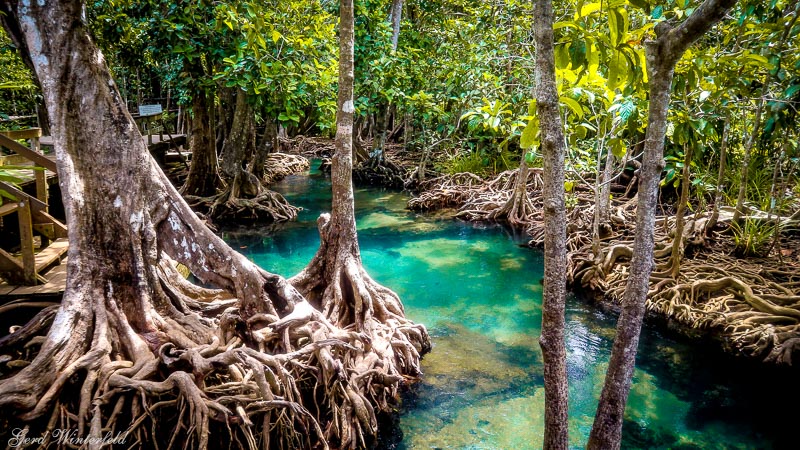 Located in the Khao Phra Bang Khram Nature Reserve, Klong Song Nam is about 35 kilometers northeast of Krabi Town. The best way to get there is by hiring a taxi or renting a motorbike. If you're feeling adventurous, you can also take a long-tail boat from Krabi Town to the nearby village of Ban Tha Len and then continue on foot to Klong Song Nam.
As you approach the entrance of Klong Song Nam, you'll be greeted by a serene and peaceful atmosphere, with the sound of flowing water and the chirping of birds in the background. The entrance fee is only 100 Baht, and it's worth every penny.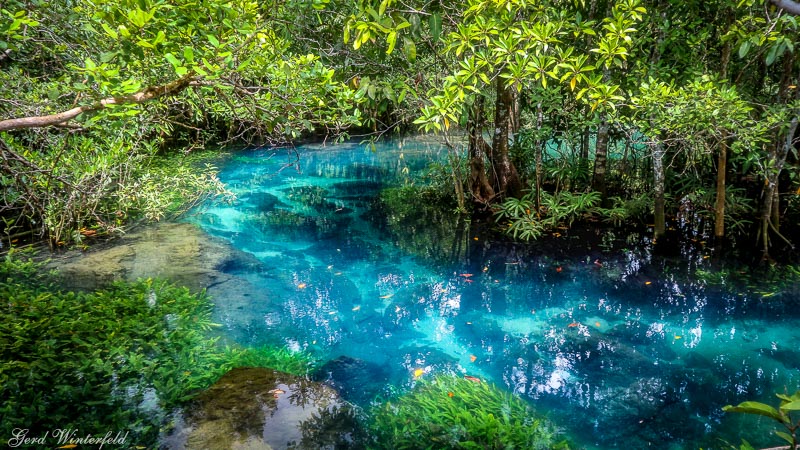 Once inside, you'll find a well-maintained wooden walkway that meanders through the forest, following the course of the freshwater stream. The walkway is easy to navigate and provides stunning views of the crystal-clear water, which is so clear that you can see the fish swimming beneath the surface.
As you continue walking, you'll reach the point where the freshwater stream meets the saltwater canal, and the two merge to create a unique ecosystem with diverse flora and fauna. This convergence of two different water sources is what makes Klong Song Nam such a fascinating place to visit.
The walkway will lead you to several swimming spots along the way, where you can take a dip in the cool and refreshing water. There are also several picnic areas, so you can bring your own food and have a relaxing meal in the midst of nature.
In conclusion, Klong Song Nam is a must-visit destination for anyone traveling to Krabi. Its unique geographical feature, serene atmosphere, and crystal-clear water make it a perfect place to relax, unwind, and reconnect with nature. Whether you're traveling alone or with family and friends, Klong Song Nam is a hotspot that should not be missed.