Krabi Town, the capital of the Krabi Province in Southern Thailand, is a charming and laid-back town that serves as a gateway to some of the region's most stunning natural attractions. The town is situated along the Krabi River, which flows into the Andaman Sea, and is home to a range of hotels, tourist spots, and picturesque photo opportunities.
When it comes to accommodations, Krabi Town offers a range of options to suit all budgets and preferences. For budget-friendly stays, there are plenty of guesthouses and hostels, such as Pak-Up Hostel and Sleep Whale Krabi. For mid-range options, there are hotels such as Thepparat Lodge and Green House Hotel, while luxury travelers can indulge in the four or five-star amenities of Maritime Park & Spa Resort or Krabi SeaBass Hotel.
Krabi Town's location along the Krabi River makes it an ideal spot for taking a river tour. Visitors can book a long-tail boat or kayak and explore the river's many mangrove forests, limestone cliffs, and hidden caves. The Khao Khanab Nam Mountains, two towering karst formations that rise up on either side of the river, are also a popular photo spot and an iconic landmark of Krabi Town.
Another popular tourist attraction in Krabi Town is the Tiger Cave Temple, located just a short distance from the town center. The temple, which is perched on a hilltop and reached by climbing a steep staircase, offers stunning panoramic views of the surrounding countryside and the Andaman Sea. It is also home to a golden Buddha statue and a sacred cave that houses intricate carvings and shrines.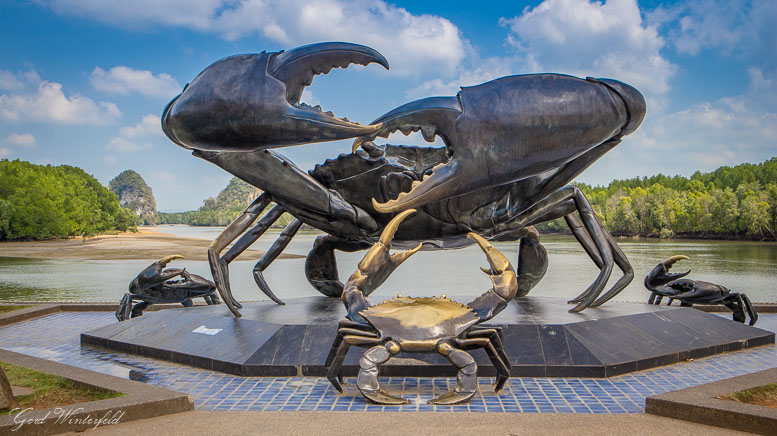 Krabi Town is also known for its vibrant night market, which takes place every weekend on Maharaj Road. Here, visitors can indulge in a range of street food delicacies, shop for souvenirs, and enjoy live music performances.
For those looking for a picturesque photo opportunity, the Thara Park and the Krabi River esplanade are ideal spots to capture the town's natural beauty. The park features lush green lawns, playgrounds, and picnic areas, while the esplanade offers a scenic walkway along the riverfront, lined with palm trees and street vendors selling snacks and refreshments.
In conclusion, Krabi Town is a charming and picturesque destination that offers a range of attractions and amenities to suit all interests and budgets. With its stunning natural landscapes, vibrant culture, and warm hospitality, it's no wonder that Krabi Town has become one of Thailand's top tourist destinations.