Bangkok is one of the most popular tourist destinations in the world, and it's no surprise that the city's main airport, Suvarnabhumi Airport, is one of the busiest airports in Southeast Asia. Located 30 kilometres east of the city, Suvarnabhumi Airport is the main gateway to Thailand and serves as a hub for major airlines such as Thai Airways, Emirates, and Cathay Pacific.
Navigating through Suvarnabhumi Airport can be a daunting task, especially for first-time visitors. The airport is divided into four levels, with each level serving a different purpose.
The departure area, located on the fourth level, is where you'll find check-in counters for all airlines, as well as shops, restaurants, and lounges. The departure area is also home to the airport's duty-free shops, which offer a wide range of products, from luxury brands to local souvenirs.
Moving down to the third level, you'll find more restaurants and shops, as well as the airport's security checkpoint. Make sure to allow enough time to pass through security, as the lines can get quite long, especially during peak travel periods.
The second level is where you'll find the airport's arrival hall, which is split into two sections: one for international arrivals and one for domestic arrivals. If you're arriving from an international flight, you'll need to pass through immigration and customs before exiting the airport. Once you've collected your luggage, head to the arrivals hall, where you'll find transportation options such as taxis and buses.
The ground floor of the airport is where you'll find transportation options such as taxis and buses. If you're planning to take a taxi, make sure to use one of the official taxi counters located in the arrivals hall to avoid getting ripped off by unscrupulous drivers.
The Bangkok Airport – Pattaya Bus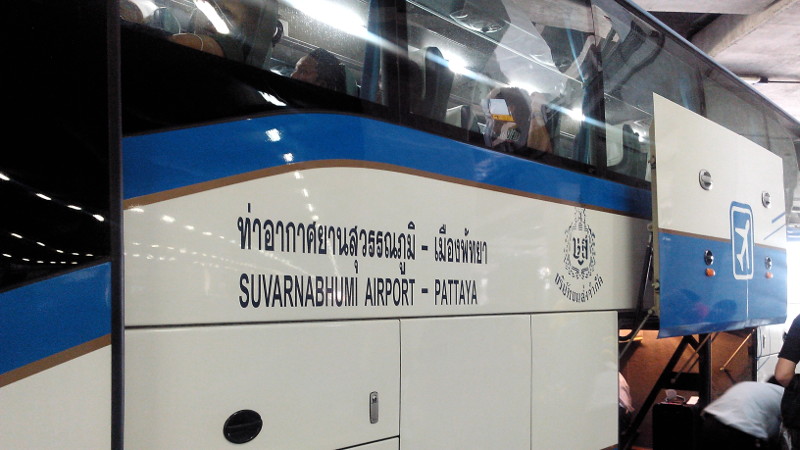 Passengers who want to travel to Pattaya or Hua Hin, after arriving at Bangkok Airport can take a taxi (about 2000 Baht) or the Bangkok Airport – Pattaya Bus from Suwarnabhumi Airport.
To get to the bus station at Bangkok airport, you have to go down to the basement of the airport, which is just another floor lower than the arrival hall. Read more about the Bangkok Airport – Pattaya Bus
Don Muang Airport, the old Airport
While Suvarnabhumi Airport is the main airport in Bangkok, the city also has a secondary airport, Don Muang Airport. Don Muang Airport serves as a hub for low-cost carriers such as Air Asia, Nok Air, and Lion Air. The airport is located about 20 kilometers north of the city and is easily accessible by taxi or public transportation.
Overall, navigating through Bangkok's airports can be a bit overwhelming, but with a bit of planning and patience, it's a breeze. Whether you're arriving in Bangkok for the first time or heading out on your next adventure, Suvarnabhumi Airport and Don Muang Airport are sure to provide a smooth and efficient travel experience.
Passengers should be aware that Suvarnabhumi and Don Muang airports are about 40-50 km apart, requiring at least 3-4 hours transfer time for an ongoing flight with a budget carrier from Don Muang after an international arrival at Suwarnabhumi. Plan accordingly to avoid missing your flight.